Hello Sour Beer Friends!
Two evenings ago, my friend Carlo invited my boyfriend and I to join him at his family's restaurant to taste a recipe he was developing for an article to be featured here on Sour Beer Blog.  Not one to pass up an opportunity to drink sour beer, I grabbed a bottle of The Bruery's Sour In The Rye to share!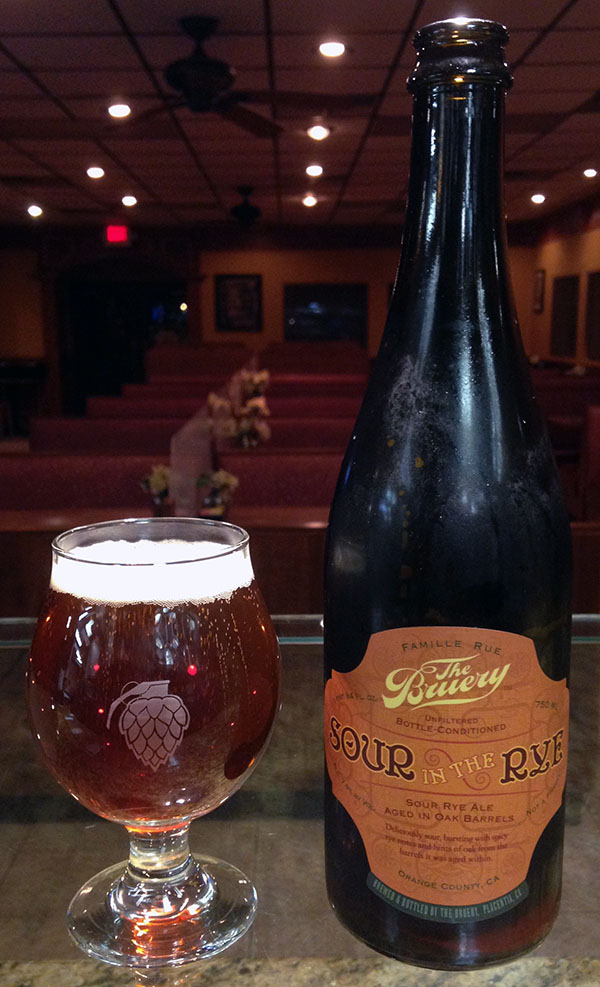 The Bruery, in Placentia, CA, was founded in 2008 by Patrick Rue and focuses on producing a variety of Belgian inspired experimental beers.  Luckily for us, these include a large variety of sour beers including a number of traditional examples such as Flanders Red, Berliner Weisse, and Kriek as well as new American sour varieties such as a sour stout and a sour blonde with blueberries.
Sour In The Rye is an American sour ale brewed with 40% rye malt and aged in oak barrels for over a year with the Bruery's blend of house microbes.    The beer measures 7.8% ABV and is produced annually in limited amounts.  The bottle we tasted was Lot 55 from November of 2012.
When poured, Sour In The Rye produced a thick layer of off-white head on top of a brilliantly clear, dark copper colored beer.  We were greeted up front with strong aromas of oak, vinegar, and dark fruit notes that reminded me of fruit cake or raisins. When smelling the beer a little longer, light leather and caramel malt aromas were also present.
When tasting Sour In The Rye, an aggressive sour profile consisting of lactic acid and vinegar jump to the forefront.  The souring is pleasant and the flavors of vinegar are much weaker than those of lactic acid, striking a complex balance.  There are also strong flavors of oak present, with these oak notes being more neutral like those in white wine, as opposed to the flavors of bourbon.  The rye malt produces flavors in this beer that are less obvious than those in some other styles such as rye pale ales and IPAs.  Instead, I found the rye malt to take on more caramelized notes reminiscent of dehydrated fruit such as raisins or prunes.  These caramel-like flavors provide a nice perception of sweetness that balances against the sour flavors.  This combination of oak, sour, and caramel reminds me of well-made beers in the Flanders Red style.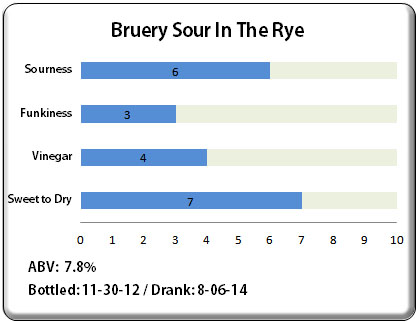 Sour In The Rye also contains some subtle flavors of wet-dough and leather from aging with Brettanomyces.  There is no detectable hop presence in this beer.  The carbonation level is medium to high and the body is medium.  Additionally, there are no detectable off flavors and the higher alcohol level is not warming.  The beer drinks like a session-strength ale.
Overall, Sour In The Rye is a very flavorful and pleasant drinking American sour beer.   The beer has a distinctively sour aroma which gives one an accurate preview of what they're about to taste.  A strong acidity balances well with malty caramel rye flavors through the drink and a dry oakey finish leaves the beer refreshing and entices the drinker to have more.  Many of  the sour beers produced by The Bruery have a distinctive "house" sour profile.  If you have enjoyed other Bruery sours such as Tart of Darkness, Oude Tarte, or Otiose, then this beer will not disappoint.  Try one out for yourself whenever you get the chance!
Cheers!
Matt