Hello Sour Beer Friends!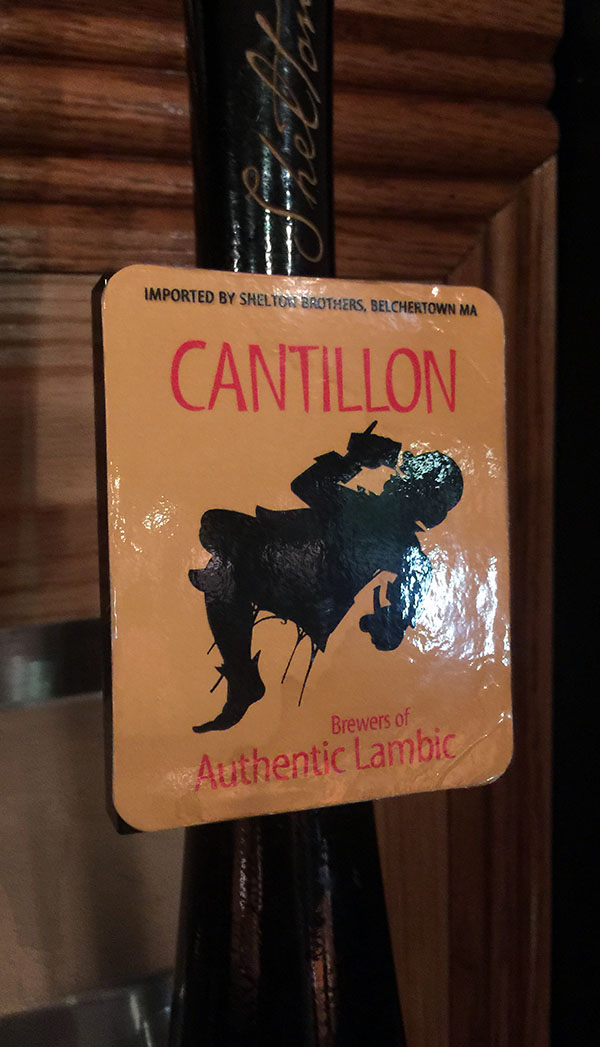 I was a very fortunate sour beer drinker this week!  Over the past few days, one of my favorite local restaurants, Café Bruges in Carlisle, PA, was able to feature a world-class fruit lambic on draft.  This awesome beer was none other than Cuvée Fou Foune by Brasserie Cantillon.  While this limited release apricot lambic was something quite special, Café Bruge's beer menu is no stranger to the offering of excellent lambic beers.  It has been a truly rare occasion when I have not been able to enjoy a gueuze or kriek produced by Drie Fonteinen, Tilquin, Boon, or Hanssens while dining at the Belgian themed cafe.  Additionally, Café Bruges features a number of delicious dishes which pair wonderfully with these funky and dry sours.
Like all of Cantillon's traditional products, Fou Foune begins its life as a spontaneously fermented  base lambic aged in oak barrels.  For this blend, 2-year old lambic is selected and blended with approximately 40% by weight of fresh "Bergeron" apricots.  The lambic extracts the characteristic aromas and flavors from these apricots in about one month's time, after which Fou Foune is bottled or kegged and distributed with the intention that the beer be consumed fresh.
Fellow author Cale Baker and I were served the 2014 vintage of Fou Foune on draft in footed pilsner glasses.  The beer poured a hazy golden peach color and was served with about 3/4 of an inch of bright white head which subsided to a thin layer after several minutes but never disappeared entirely.  The first aromas we noted were those of sweet apricots and apricot skins, with a more subtle presence of lactic acid.  The apricots smelled like a fruity perfume and were very enticing. We picked up some of the light sulfur characteristics of stone-fruits as well.  Overall, the aroma was fruit forward and fairly clean.  This young and fresh example did not portray any of the funkier Brettanomyces aromas which are typical of aged lambics.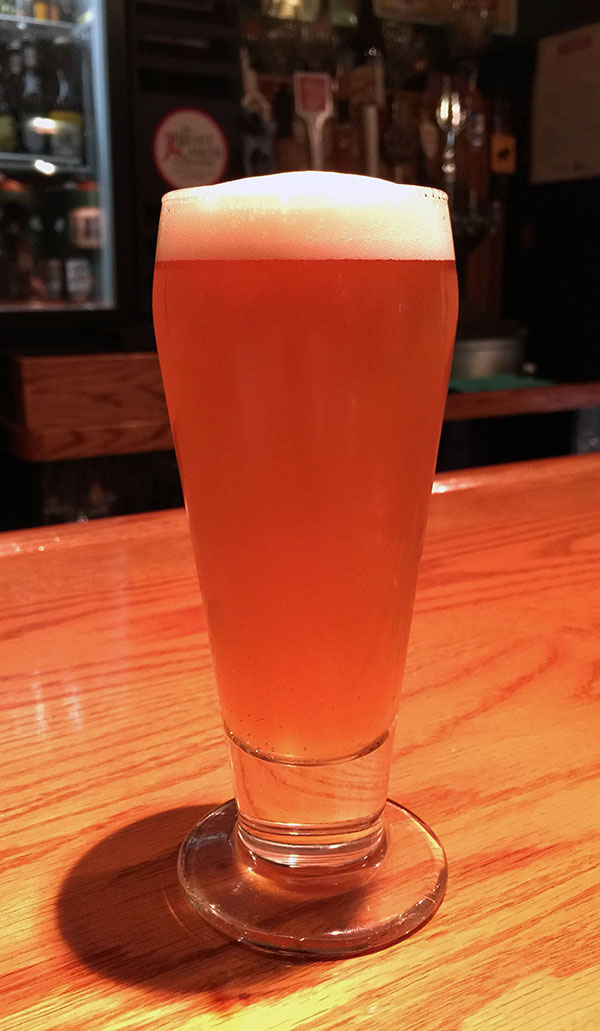 When tasting Fou Foune, the first characteristic that we noticed was how tremendously balanced and drinkable the beer was.  I personally had four glasses of the 5% ABV lambic during each of the two nightly sessions I spent at Cafe Bruges.  At no point did the beer's flavors become cloying or overbearing.  When drank cold, the lambic's sourness was actually rather light, although as the beer warmed up to cellar temperature the souring level became of moderate intensity.  Fou Foune's acidity was entirely composed of soft lactic acid and natural fruit acids from the apricots.  There was no vinegar character in the blend whatsoever.  The apricot flavor was fresh and fleshy.  Cantillon's apricot lambic is less tannic than their other fruited blends and this left the beer feeling softer and rounder on the palate in comparison to beers like Rosé de Gambrinus or Saint Lamvinus.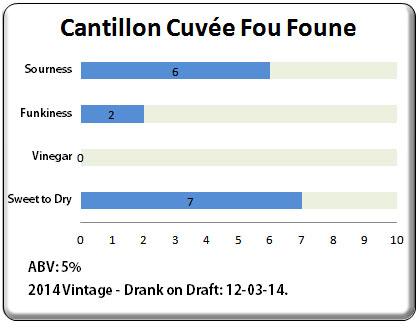 Fou Foune's body was medium light with a moderate level of carbonation, which was slightly lower than bottled examples I have tasted.  This beer maintains a slightly higher level of pectins than many fruit lambics and this "pulpiness" comes across in the flavor as freshness and juiciness. The presence of Brettanomyces was fairly reserved in this blend, with some of the characteristic flavors of light hay, sour dough, and tropical fruit coming through, but in general taking a backseat to the bright apricot fruitiness.  After working our way into the second glass we also began to pick up on a nice cracker-like presence of wheat in the finish.  As is the case for most flavors in beer, as our glasses warmed up to approximately cellar temperatures (50-55° F), the intensity of the fruit, souring, malt, and Brettanomyces flavors increased and the beer really opened up into its full beauty.  The balance of these flavors to each other remained constant at all temperatures though and at no point could we sense any alcohol warmth or the presence of any off-flavors.
Cantillon's Cuvee Fou Foune is a world-class beer that stands out as being one of the finest blends from a brewery already known for only producing exceptional lambics.  To enjoy it on draft and with friends in the cozy and relaxing atmosphere of Café Bruges was one of my favorite beer experiences to date.  The staff is courteous, knowledgeable, and friendly and they made the experience all the better.  If you are traveling to or live near central Pennsylvania, you should absolutely plan for a visit to Café Bruges.  Fans of Belgian beer and cuisine will not be disappointed!
For those of you around the world, the 2014 vintage of Fou Foune is absolutely delightful.  If you have the opportunity to taste it do not hesitate to do so!  For those of us in the United States, Fou Foune just began being distributed for the season via distributors associated with the Shelton Brothers of Belchertown, MA.  If you are lucky enough to get a bottle, drink it fresh!  To let this beer age is to deprive yourself of one of the softest, fruitiest, and most delicious blends I have had the privilege to taste.
Cheers!
Matt "Dr. Lambic" Miller
When I'm sitting at the bar enjoying any type of lambic, I love to have something to snack on.  For these occasions I recommend Café Bruges' Cheese Plate.  It comes with miniature French pickles, toasts, mustard, and a locally made cheddar.  The soft savory cheese brings out the best Brettanomyces characteristics of these beers and the light vinegar of the pickles offers a nice contrast to the lactic acidity of the lambic.
One of my favorite entrées at Cafe Bruges is their Carbonade Flamande which is a savory Flemish stew featuring generous portions of slow cooked beef and parsleyed potatoes.  I love pairing this beer with an Oude Gueuze.  I find that the high carbonation and healthy acidity of the gueuze cleanses your palate of the rich gravy from the stew, leaving you both refreshed and ready for your next bite.
If you're looking for something sweet, I am a big fan of the Belgian Dark Chocolate Mousse.  The mousse itself has a great dark chocolate bitterness while the edible cup its served in  offers a bit of sweetness.  I love pairing this dessert with a fruit lambic, especially an Oude Kriek by Hanssens or Drie Fonteinen.  Cherries and chocolate marry beautifully together and this pairing brings out the most decadent flavors of both the mousse and the fruit lambic.
Enjoy!
Like most people I love having some lite fair while drinking, especially with a Gueuze. One of my go to treats at Café Bruges would have to be without a doubt be the Belgian style Frites served with the house mustard-mayo dipping sauce. This fantastic pairing really lets those fruity characters of the gueuze come out and cuts the little bit of grease you get with any fried food. Not to mention that the mustard-mayo sauce could be put on anything!
When the mood strikes for a Fruit Lambic, like a Drie Fonteinen Oude Kriek, my suggestion would be the Steak Frites. This perfectly cut and grilled filet is served with a garlic compound butter that is to die for. Included are fresh steamed green beans and, of course, frites. The savory succulence of the filet really goes hand in hand with those crisp cherry and pitty flavors of an oude kriek. Certainly my top pick of all the entries at Café Bruges.
I'm not much a of dessert guy, but I must say if you are, look no further then the Belgian Waffle they offer at Café Bruges. Hands down this is the best waffle you will ever see, smell or taste. I don't always do dessert, but when I do, there is nothing better then a waffle and a bottle of Tilquin Oude Gueuze.
I would like to give a special thanks to Paul from Café Bruges for both putting this fantastic drinking opportunity on my radar and for his gracious hospitality during our many visits to the restaurant!