Hello Sour Beer Friends!
Last Saturday night, I was hanging out with some of my sour inclined friends and decided to crack open a few beers to enjoy and share with you.  The first of these was a beer I have been excited to try for some time, Noyaux by Cascade Brewing of Portland, Oregon.  Cascade's brewmaster Ron Gansberg began brewing sour beers in 2005 in a rebellion of sorts against the trend of breweries in the Northwest who seemed to be competing to produce the strongest and most bitter IPAs imaginable.  Nine years later, Cascade blends its entire line of sour-only beers from over 750 French and American oak barrels and serves those beers both in bottles and on 18 rotating taps at their "House of Sour", the Cascade Brewing Barrel House.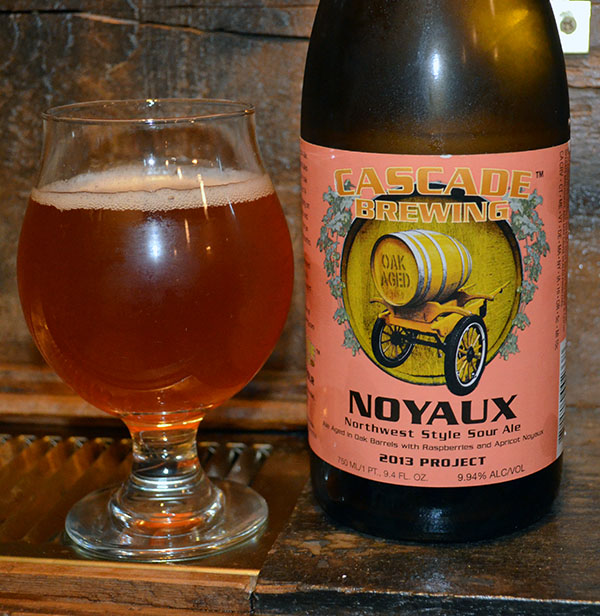 Cascade Noyaux starts its life as a series of blond ales aging with Lactobacillus in oak barrels for up to 14 months.  These stock beers are then blended with fresh raspberries and apricot noyaux (the toasted pits of apricots) and aged for an additional 7 months before bottling.
When pouring Noyaux, the beer forms a thin white head on top of a hazy orange-pink colored beer.  My friend Cale remarked that the beer looks like a golden sunset and I am inclined to agree.  Lactic acid and the presence of Lactobacillus are immediately apparent in the aroma.  The beer smells of apricots, peaches, and stonefruit pits with a light sulphur note.  We were reminded of candy sour peach rings and peach jam.  Also present are light aromas of oak and white wine.  Lastly, there are hints of raspberries in the aroma as well as a slight note of liquor.
When I first tasted Noyaux I was greeted with the flavor of tart raspberries and stone-fruit pits.  The souring profile is about two-thirds lactic acid with the other one-third being fruit acids from the raspberries.  The second flavor that I noticed was a somewhat boozy, barrel-aged, quality to the beer.  At 9.94% ABV, Noyaux is higher in alcohol content than is average for a sour beer.  The bottle recommends to serve Noyaux at 40° F, which is cold for most ales, but I agree that at this cooler temperature the alcohol presence was very muted and allowed the sour, fruit, and oak flavors to shine through.  As the beer warmed up, the higher alcohol content became more obvious and, while still pleasant, was quite warming to my face and throat.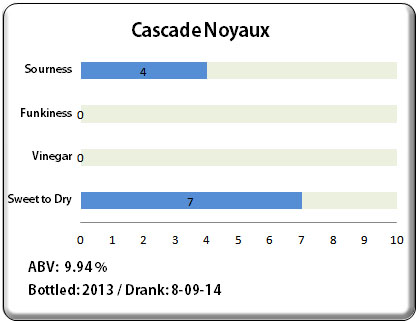 There is no significant malt or hop presence in Noyaux.  Additionally there are no notable flavors from Brettanomyces, which I believe are purposefully avoided in most Cascade sours.  The beer has a medium level of carbonation and a thin to medium body.  The raspberry flavors are very nice and taste like a mixture of fresh fruit and also raspberry jam.  The almond-like pitty flavors of the noyaux liquor add a nice touch to the flavor profile, melding well with the light neutral oak and tannins from raspberry seeds.   When tasting Noyaux, the beginning of a drink starts out with a nice medium sourness blended with complex fruit flavors of raspberries and apricots.  The middle of a drink finds some residual sweetness from the fruit as well as some perception of sweetness from the alcohol balancing against the lactic souring.  Finally, the finish on Noyaux is dry and refreshing with notes of white wine oak and raspberry tannins.
Overall, Cascade Noyaux is a very nice American sour beer.   It would make nearly the perfect sour for drinking with friends on a cold fall night around a campfire.  I envision smelling the aromas of tart fruit, oak, and alcohol against a background of damp fallen leaves.  The warming nature of Noyaux would also be a welcome gift against a cool breezy night.  I plan to find some more bottles of this beer so that I can enjoy them in a few months as I just described, and I would definitely recommend that you do the same.
Cheers!
Matt