Happy New Year Sour Beer Friends!
Recently I had the opportunity to taste my first beer from Draai Laag Brewing Company of Millvale, Pennsylvania.  Residing in a suburb of Pittsburgh, the relatively small Draai Laag (pronounced "Dry Log") brewery and pub opened their doors in 2009.  Since its inception, the brewery has focused solely on the production of Belgian inspired beers that employ mixed-microbe fermentations.  While not a "sour" brewery per se, many of Draai Laag's beers do, never-the-less, have some level of acidity in their flavor profiles.  This is due to the inclusion of both wild yeast and/or bacteria into the fermentation of classic styles as well as the use of spontaneous fermentation for some specialty beers.  Crafted by brewer and co-owner Dennis Hock and co-owner Sean Monaghan, Draai Laag's unique flavor profiles have gained popularity in the Pittsburgh region and beyond.  Draai Laag's The Plague is a special release wild Belgian Stout fermented on raspberries, blackberries, and blueberries.  The bottle I enjoyed, which was numbered 478 out of 600, indicated that the beer contained Brettanomyces lambicus and that the alcohol content weighed in at a hefty 9% ABV.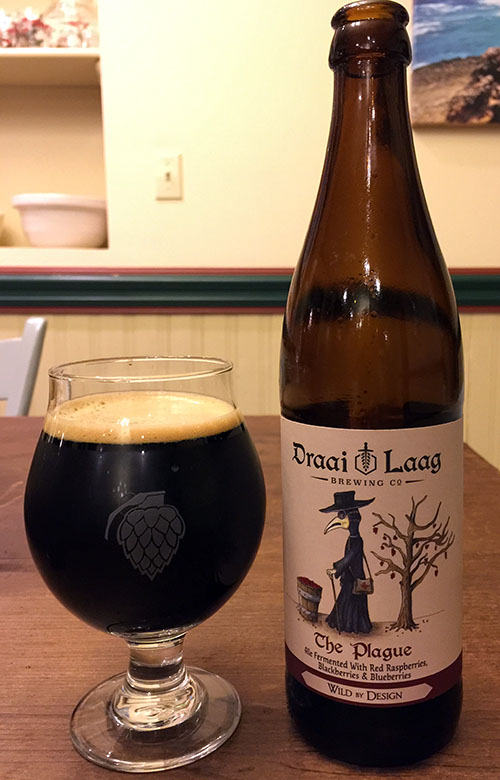 The Plague poured deep black with a low level of tan head which dissipated quickly.  The first aromas that I picked up were those of red wine, oak, and roasted malt.  More subtle were the aromas of fresh berries and fruit juice with raspberry being predominant.  As the beer warmed up some light floral and damp hay notes became present as well.
When tasting The Plague, I was greeted with a lightly roasty malt backbone that falls somewhere between a dry stout and a robust porter.  Fruit notes were very prominent but well-balanced against both the roast and a low level of acidity.  Mirroring the aroma, the only fruit I could uniquely identify when tasting the beer was the raspberries.  The blackberry and blueberry components seemed to meld into more of a red wine & fruit juice blend that was, in addition to the raspberry notes, very enjoyable.  The light sourness of The Plague seemed to be derived mostly from malic acid from the fruit additions and (potentially) a little lactic sourness arising from the fermentation.  I couldn't detect any acetic acid and there was no vinegar flavor to be found in this beer.   A low level of hop bitterness added another note of complexity to The Plague, but there were no hop aromas or flavors present.  The beer had a light body with a low to medium level of carbonation.  While The Plague clocks in at 9% ABV, I would never have guessed this based on its taste, light body, and complete lack of any alcohol heat.  On the same track, this beer was obviously well-fermented and I could not detect any off-flavors of any kind.  Each sip finished smoothly with the fruit and roast components balancing together and remaining into the aftertaste.  With little to no phenolics, I would not have guessed that any Belgian strains were used to ferment this beer, an attribute that I appreciate given that, for my palate, phenolics and roast tend to be clashing flavors.
With all of the nuances of flavor and aroma present in The Plague, it would be easy to overlook the contribution of Brettanomyces lambicus.  To my taste, I found that this microbe made its presence known in both the light body of this relatively big beer as well as through the aroma components of both dried flowers and damp hay.   These aromas married with some subtle funky elements in the flavor that I picked up in the form of a bit of musty cheese rind and dough. While Brettanomyces bruxellensis 'lambicus' is most famous for its help in developing the plethora of funky flavors present in classic gueuze and other lambics, its subtle presence in this beer is evidence that this versatile organism can be a positive component of a wide variety of experimental styles.
Overall, I found Draai Laag's The Plague to be a delicious and well crafted beer.  Very easy to drink, this wild fruited stout had a complex deck of cards to play and it did so quite well.  The oak and wine components added nicely to the overall profile without stealing the show and the low but present acidity kept the fruit flavors bright without clashing with the beer's roasted malt backbone.  A great fall or winter beer, I found this to be one of the better executed dark sours that I have tasted.  I am looking forward to tasting more beers from Draai Laag's lineup and hopefully the near future will find me enjoying a few of them in their recently opened biergarten.
Cheers!
Matt "Dr. Lambic" Miller