Hello Sour Beer Friends!
After a fun and relaxing Easter Sunday spent with my family I decided to wrap up my evening by enjoying a very interesting oude kriek produced by Brouwerij Drie Fonteinen.  Intense Red Oude Kriek differs from most traditional lambic kriek beers both in its recipe formulation and resulting flavor profile.  Traditional krieks are produced by blending a lambic base with 25 to 30% (by weight) of whole sour cherries.  Most traditional krieks will have a blend of lambic sourness, Brettanomyces funk, oak character, and wheat malt backbone combined with a soft tartness and fruit flavors from the cherries.  Additionally the pits of the cherries provide an almond flavored astringency which adds a unique flavor to these beers and adds to the aftertaste.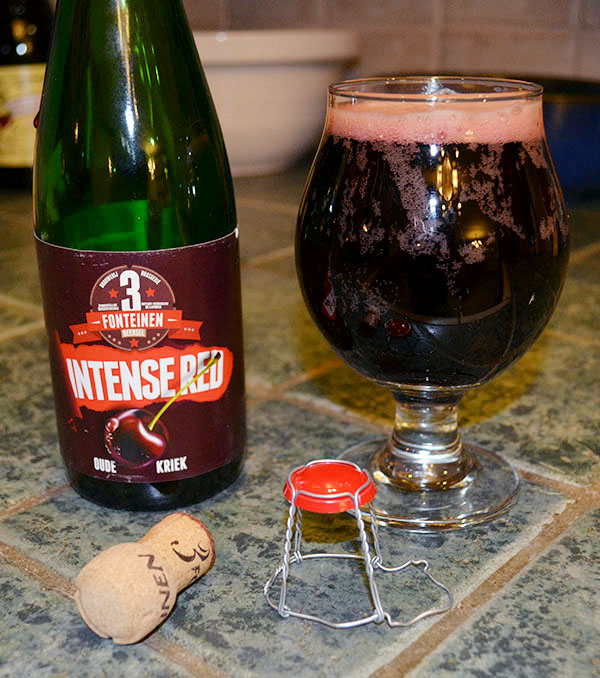 Intense Red Oude Kriek differs slightly in its formulation from traditional krieks by utilizing 40% sour cherries by weight in its blending.  Upon pouring this kriek, the greater percentage of cherries can be seen immediately in the color of the beer and in its head formation.  While most krieks are a deep ruby red but can still be clearly seen through, this kriek pours a very dark burgundy red which is so dense that light doesn't pass through it easily.  A very pink head also forms but dissolves almost immediately.  Aromas of sweet cherry pie, vanilla, wood, and a light must are present.  I could not detect some of the more traditional lambic characters in the aroma such as barnyard funk or a noticeable acidic smell.
When drinking Intense Red, I was greeted first and foremost with strong flavors of cherry wine.  The cherries are the total star of this show, with very little of the lambic base poking its way through.  The cherry flavors of the beer taste like cherry pie and cherry wine and I thought the cherries reminded me more of fresh fruit as opposed to cherry candies or artificial medicinal flavors of cherry syrups.  The winelike fruit character in this kriek overwhelms any significant presence of the more beer-like flavors of wheat malt or graininess that can be tasted in some examples of the style.  The sour profile of this beer is soft and of medium intensity.  The sourness may actually be more than 50% derived from the malic acid already present in tart cherries with a little lactic acid adding some additional sourness.  There is little to no funk in the flavor profile and unlike many oude krieks this one is without characteristics of hay, horse blanket, farmyard, leather, or cheese.  Brettanomyces is lightly present with some tropical fruit notes but is primarily evident in the body and attenuation of the product, which has a nice dry finish.  The body is somewhat thin and the carbonation is at a medium level.  There is no back-sweetening in this or any Drie Fonteinen product.  While the beer is highly attenuated and without much if any true residual sugar, the high percentage of cherries do add the perception of sweetness which balances nicely with the souring to produce a soft drinking kriek overall.
As an educational side note: This perception of sweetness is a characteristic of a non-sugar family of chemicals called esters.  Esters occur naturally in fruits and are also produced by a variety of fermenting microorganisms including both Saccharomyces and Brettanomyces.  The tropical fruit flavors produced in many sour beers by Brettanomyces are a result of esters produced by these yeasts during fermentation.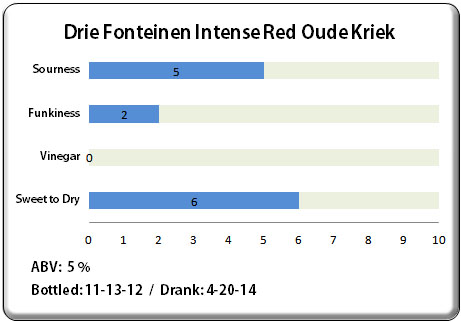 This kriek is one of the strongest examples I have tasted in regards to the almond flavor contributed by cherry pits.  This flavor permeates the entire way through the drink and is especially noticeable in the aftertaste as a tannic astringency which enhances the perception of dryness at the end of a sip.  The cherry pit flavor is enhanced also by some oak character present as both neutral wood flavors and vanilla.
Overall, this is a very interesting example of the kriek style.  Armand Debelder, the brewer and blender of Drie Fonteinen's excellent lambics, has a wonderful palate for producing unique and delicious beers.  While Intense Red Oude Kriek does differ significantly from the funkier and more sour profile of Drie Fonteinen's traditional Oude Kriek, it is no less wonderful to drink.  Fans of the almond cherry pit flavors of classic krieks as well as fans of sour cherry wines will find themselves right at home with this beer.  Its a difficult product to track down, but, if you're a fruit lambic fan, you will be very happy if you do!
Cheers!
Matt