Hello Sour Beer Friends!
Today I bring you a review of my first sour beer from Firestone Walker's new sour program. Firestone Walker, and their brewmaster Matt Brynildson, are well known in the craft beer world for their excellent products, including Union Jack, Pale 31, and Pivo Pils. Their sour beer program, officially called Barrelworks, began as early as 2005 with extra barrels from their Union Barrel Program occasionally being allowed to develop sour beer for blending. Fast forward 9 years later and they've legitimized their sour beer efforts with a dedicated warehouse for aging and blending under the direction of their master blender Jim "Sour Jim" Crooks. Last weekend, during a night of sour beers with friends, we opened two bottles of Firestone Walker's Bretta Rosé.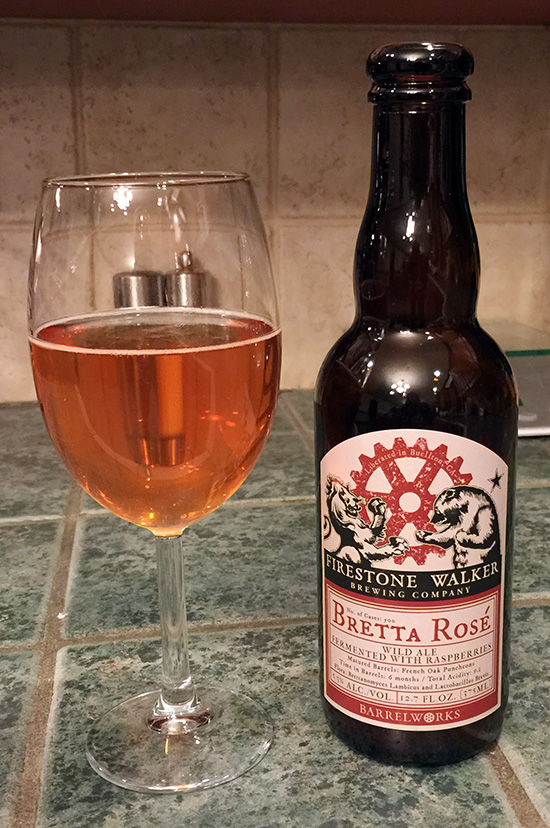 This light pink sour is based upon the Berliner Weisse style. The base beer is aged in French oak for 6 months before having fresh, locally grown, raspberries from Santa Maria blended in. Bretta Rosé then enjoys another 4 months of re-fermentation in the barrels which results in a dry and tart flavor profile and an ABV of 5.3%. Additionally, the label notes that the microbes used in the process are Brettanomyces lambicus and Lactobacillus brevis.
Bretta Rosé poured clear and formed very little head. The aroma of fresh pressed raspberries and fresh cut flowers were dominant. The floral aromas reminded us somewhat of hibiscus flowers and the fruit notes actually smelled juicy and candylike, similar to raspberry jolly ranchers. The tannic aroma of crushed raspberry seeds was also evident along with a notable presence of lactic acid.
The clean flavor of lactic acid predominates when tasting Bretta Rosé. The beer's Berliner Weisse roots shine through with very little wood character from its time in oak being perceptible. The souring was moderate and almost entirely composed of lactic acid. There was no acetic acid (vinegar) presence and no notable off flavors to speak of. The flavors of crushed raspberry seeds are sensed as slightly astringent tannins which enhance the mouthfeel of the beer and add dryness to its finish. The malt backbone tasted like wheat flour and the raspberries add a juicy, fruity, note somewhat like pink lemonade.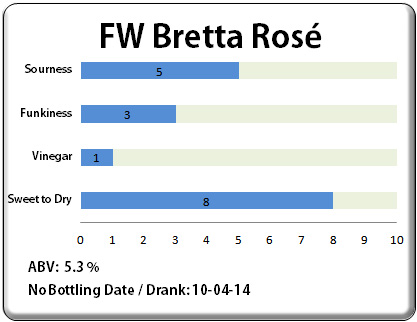 As in traditional Berliner Weisses, there was little to no distinct hop presence. The body and carbonation of the beer were both medium. Brettanomyces seems to have played a fairly light-handed role in the development of this beer's flavor profile. Some bready sourdough character is lightly present as well as some tropical fruit notes which may have been enhancing the juicy quality of the raspberries.
Overall, I was very pleased with my first experience from Firestone Walker's sour program. Akin to its Berliner Weisse cousins, Bretta Rosé is a very refreshing beer with a pleasant balance of light flavors. The pale wheat malt character, clean lactic souring, and fresh juicy raspberry character all come together to produce a very delicious and refreshing end product. This would be an awesome summertime beer. I will definitely be looking forward to trying more releases from the Firestone Walker Barrelworks!
Cheers!
Matt