Hello Sour Beer Friends!
I recently had the opportunity to taste my second fruited sour offering from Jester King Brewery of Austin, Texas.  Nocturn Chrysalis is a mature, oak aged, sour red ale which is then blended with blackberries.  In the case of Blend #2, these were Marion blackberries from Oregon.   After the addition of fruit, the unfiltered and unpasteurized beer is allowed to referment to complete dryness and is then bottle conditioned after packaging.  Like my first fruit sour from Jester King, Atrial Rubicite, Nocturn is produced using a blend of souring bacteria, Brettanomyces, and both farmhouse and wild yeast cultures.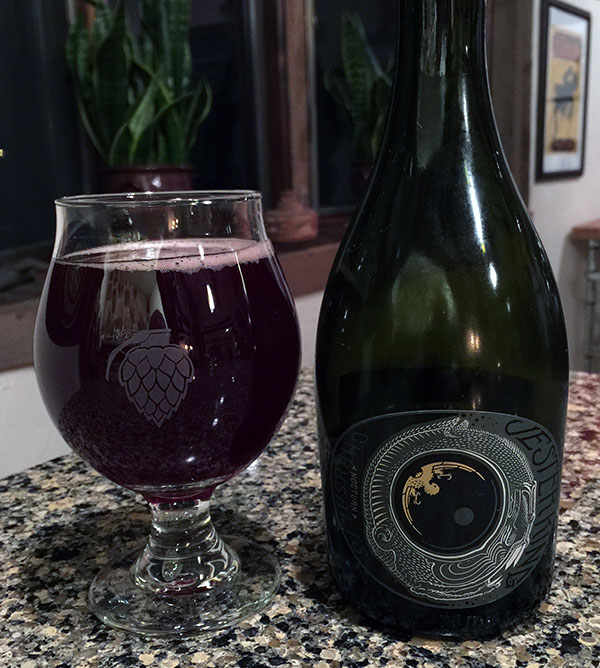 Nocturn Chrysalis poured a beautiful deep purple color, bordering on black, with a thin light pink head which dissipated quickly.  The aroma hit me up front with a strong oak presence.  Next, distinct Brettanomyces notes came to the forefront in the form of hay, sourdough, and light barnyard aromas.  The beer also smelled of fruit skins and pink wine.  Digging in deeper, I could detect floral aromas like dried daisies and potpourri.  Blackberries themselves have an aroma which is difficult to distinguish but was present.  I was surprised by how much the aroma of this beer reminded me of Goose Island's blackberry sour, Juliet, although Jester King's example of the style is more Brettanomyces forward.
When tasting Nocturn, I was greeted with a light and pleasant lactic sourness, backed up by a moderate to high tannin content from the fruit skins and seeds.  Additionally, I could detect some natural fruit acidity from the blackberries.  I was pleased to find that there was no presence of vinegar (acetic acid) in the beer's sour profile.  The fact that Jester King steers away from this flavor is no secret to readers of their blog, and is one of the reasons I find their beers to be so pleasantly drinkable.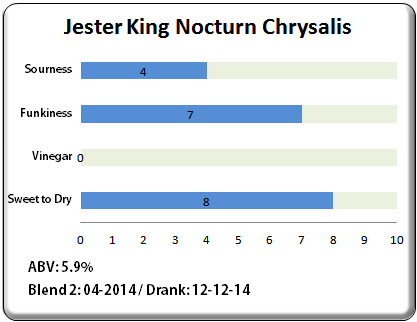 The flavor balance in this blackberry sour was very akin to a dry fruit wine.  There was no hop presence that I could detect and only the lightest notes of a wheat and pilsner malt background.  While the beer was completely attenuated and very dry in both the body and the finish, the blackberries added a pleasant fruitiness that provided a perception of sweetness to balance against both the mild acidity and moderate tannins.  The body was light and fairly thin, with medium carbonation and a completely transparent presence of alcohol.  In fact, I could detect no fermentation defects or off-flavors of any kind in this 5.9% ABV beer.  Mirroring the aroma, the Brettanomyces flavor profile presented itself as a mixture of damp hay, dough-like flour, musty leather, and a little horse-blanket.  My friends and I were strongly reminded of the Brett character in aged examples of Sierra Nevada & Russian River's collaboration Brux when tasting Nocturn Chrysalis.   The beer finished dry with very little aftertaste and was, in my opinion, extremely refreshing.
Overall, I was thoroughly impressed with my second sour fruit beer by Jester King.  Nocturn Chrysalis falls into what I would consider a new breed of American sours that are stepping away from extreme sourness and overpowering flavor intensity.  Rather, these beers are carefully blended to be free of any defects, highly drinkable, and well balanced to achieve a complexity that isn't overwhelming or overbearing.  Nocturn is the kind of sour beer that you would like to drink several pints of while socializing with friends, and afterwards you won't be wasted or desperate for a pack of antacids.  I continue to be excited to see what future releases Jester King has in store, and I hope to see more American brewers following their lead in terms of both sour beer quality and direction.
Cheers!
Matt "Dr. Lambic" Miller
I would like to thank Brad, both my good friend and recently appointed head brewer at Bube's Brewery in Mt. Joy, PA, for sharing this beer with me.  Cheers!