Hello Sour Beer Friends!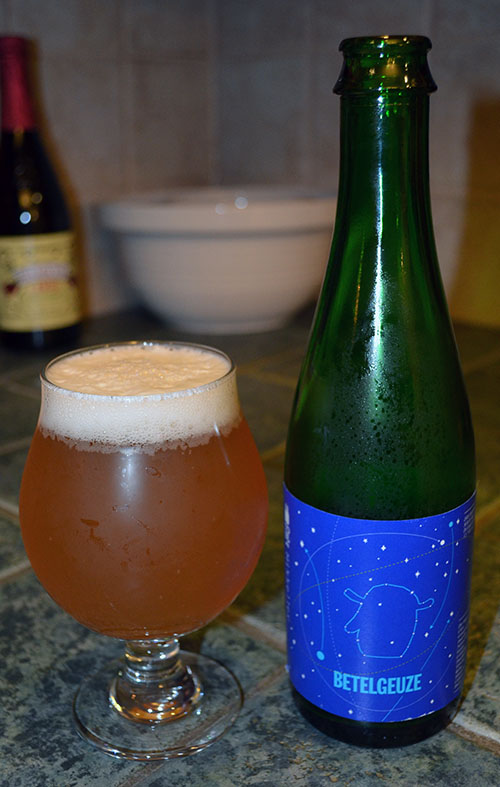 Last night after a week filled with far too much work and far too little to drink, I sat down and got to enjoy one of the many new sour offerings produced by the Danish gypsy brewery Mikkeller.  Former high school teacher, Mikkel Borg Bjergsø, and journalist Kristian Klarup Keller founded the innovative craft brewery Mikkeller in 2006.  Now a household name amongst beer geeks around the world, Mikkeller is based on the "gypsy" or "phantom" brewing model in which the brewery does not actually use its own equipment to produce its beers.  Rather than being confined to the equipment and process limitations that restrict the number of beers a brewery can realistically release each year, Mikkel collaborates with brewers around the world to create an enormous variety of ever-changing beer releases.  Luckily for us sour fans, a number of the products brewed by Mikkeller in the last few years have been high quality sour beers.  Betelgeuze, a lambic gueuze dry hopped with a variety of American, German, and New Zealand aroma hops, was the beer I got to enjoy last night and was no exception to the quality I have come to expect from Mikkeller sours.
Betelgeuze was brewed by Mikkeller in collaboration with the Danish brewery ToØl (opened in 2010 by two close homebrewing friends of Mikkel).  This beer caught my eye on a local store's shelf last weekend before I even recognized it as a sour beer due to its name.  Space and astronomy fans will recognize the name
Betelgeuse to belong to the second brightest star in the constellation Orion.  One of the brightest and largest stars close to Earth, this red supergiant star is close to the end of its stellar life cycle and is expected to explode as a supernova sometime within the next million years.  When this occurs the event will be so bright that it's glow will be visible during the daytime on earth and will effectively eliminate the darkness of nighttime during the weeks following the explosion.  Returning to the beer, this gueuze is standard in its alcohol content of 5.5% ABV but atypical in its use of dry hops to add a strong hoppy component to both its aroma and flavor profiles.
Betelgeuze was dry hopped with Citra, Centenial, Amarillo, Nelson Sauvin, Galaxy, Colombus, Tomahawk, Tettnang, Belma, Mandarina Bavaria, Calypso, and Bravo hops.  This wide assortment of citrus, pine, and floral hops add a unique layer of complexity to the flavor profile which I have not experienced in another gueuze.
Upon pouring the beer, I was greeted with a medium level of off-white head on top of a hazy light amber colored beer.  Aromas of light musty funk, leather, and hay are present but subdued by much more potent aromas of dried flowers, citrus fruit, and pine needles which all arise from the dry hopping.
Hops are a strong component of the flavor profile in this beer as well.  Citrus fruits, herbal notes, and grassy flavors are present along with a mild grapefruit-like bitterness when first tasting the beer.  While a mild bitterness is present, the beer is also pleasantly sour with the sour profile mainly composed of lactic acid with an ever-so-slight presence of acetic acid (vinegar).  The moderate souring and mild bittering play well together in this beer and are balanced by a light and crisp malt backbone which is very wheat malt forward.  The malt bill also provides some grainy astringency which may be the result of tannins extracted from the mash.
Some traditional lambic brewers will utilize a turbid mashing technique featuring a very hot final sparge which extracts tannins from the grains.  These tannins provide astringency which can add complexity to the mouthfeel of the beers and can also enhance the perception of dryness in the finish of the beer.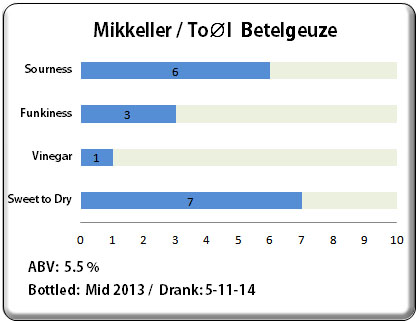 Brettanomyces presence is noticeable mainly in the mouthfeel and attenuation of the beer.  In this gueuze the Brettanomyces has not produced any pronounced barnyard funk, dough, leather, or tropical fruit flavors.  The flavor profile of Betelgeuze would be relatively simple if not for the dry hopping which does add a pleasant layer of complexity.  The body and mouthfeel of the beer are light which is standard for a gueuze, as is the carbonation which was medium to high.  After becoming accustomed to the flavors produced by the dry-hopping, I was able to detect some subtle white wine notes and a light presence of neutral wood aging.  The beer is fully attenuated with no sugar based sweetness but the yeast and hop fruitiness do produce some perception of sweetness which balances well with the light bitterness and moderate souring.
Overall, I thought that this was a well executed gueuze with a nice craft brewing twist provided by the complex assortment of hops.  There are other very nice examples of dry hopped lambics on the market, such as Cantillon's Cuvee St. Gilloise, but I enjoyed this example's use of hop varieties which are not found in traditional Belgian brewing.  Betelgeuze is another very good sour beer from Mikkeller and I'm glad that I picked up two bottles because this is one I will definitely enjoy sharing with my sour inclined friends!  If you get a chance to try it, you won't be disappointed.
Cheers!
Matt