Hello Sour Beer Friends!
Last weekend I took an afternoon to travel north to historic Selinsgrove, PA.  My mother Karen and I had a wonderful lunch at the Selin's Grove Brewing Company and while I was there I took the opportunity to try one of their annual releases Phoenix Kriek.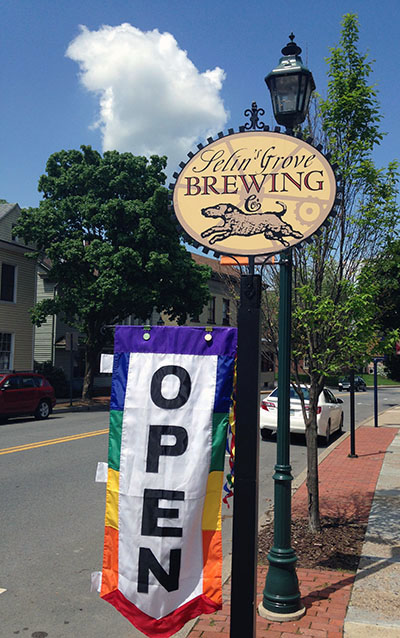 Selin's Grove Brewing Company is a small brew-pub located in the basement of the beautiful Snyder Mansion, a historic governor's mansion built in 1816.  The brewery has maintained an old fashioned and relaxing farmhouse atmosphere in their dining and bar areas.  I have visited the brewery several times over the years and their food and beer are always excellent .  The brew-pub produces a variety of rotating styles on their 7 barrel brewhouse.  At the time of writing this they have a cream ale, pilsner, American pale ale, triple, stout, wit, Baltic porter, root beer, and of course the kriek on tap.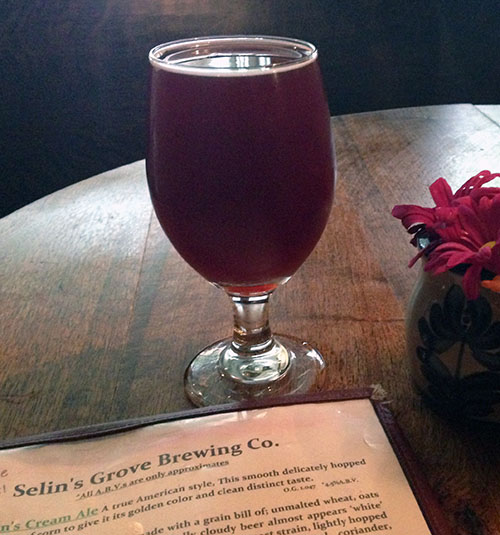 Phoenix Kriek arrived from draft in a Belgian tulip glass with a low level of pink head that dissipated quickly.  The dark red beer has a huge cherry pie aroma without any Brettanomyces funk or Belgian yeast phenolics.
The big cherry pie flavor is the first thing to hit you upon tasting this beer.  The cherry flavor profile is fairly complex and tastes like a blend of two or more cherry varietals may have been added to the beer.  A light cinnamon flavor is present.  The beer is lightly sour and the sour profile is 100% malic acid from the cherry additions.  While named kriek, this beer was not produced with the use of any bacteria or Brettanomyces in the fermentation.  Despite this, the sour presence in the beer is strong enough to balance the residual sweetness left over from the fruit.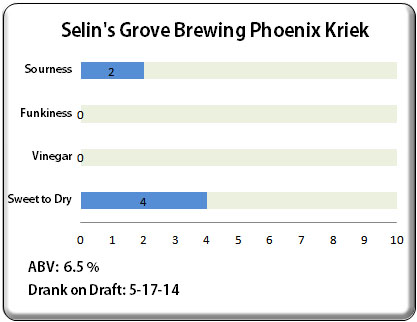 The cherries take on a somewhat candy-like flavor which I believe may be boosted by some caramel flavors potentially from the use of a caramel/crystal malt in the recipe.  The cherry flavor also has a dehydrated fruit quality to it which when combined with the cinnamon produces an impression of dried apple rings.  There is no noticeable graininess or astringency and there is zero hop presence.  The body is medium with low carbonation which leaves the beer a bit syrupy.
Overall, Phoenix Kriek is a clean, well-made, and tasty example of an American fruit beer.  While not a lambic, the beer is packed full of great cherry flavor which doesn't come across as artificial.  The beer also doesn't taste back-sweetened. The sweet to sour balance is produced naturally by the varieties of cherries used in the fermentation of this beer and I think that adds a level of quality to the overall character and balance of the beer.  While true lambic sours may not be on the menu, anyone looking for a beautiful and relaxing dining experience with great food and a wide variety of well-made beers should check out Selin's Grove Brewing Company.
Cheers!
Matt