Hello Sour Beer Friends!
Over the weekend my friend Cale and I took a day to brew wort to enter into our sour beer blending program. As is the case with any proper homebrewing day, we took the opportunity to drink a few sour beers to share with you, our acidity inclined readers! Today, I want to share our experience drinking a very limited release sour beer called Fantasia Reserve by Upright Brewing Company. This beer is the result of a bottling from a single white wine barrel from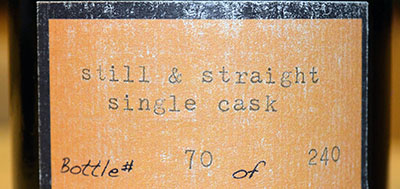 Upright's blending stock for its sour peach ale Fantasia. Part of the brewery's Sole Composition series, there were 240 numbers bottles produced in this release. While I don't expect that most sour beer fans will get a chance to try this release, I do enjoy sharing my experiences regardless of how limited an individual beer may be.
Fantasia Reserve pours still (completely uncarbonated) and forms no head. The beer was peach colored and lightly hazy. The aroma on this product was intense and enjoyable. We found it interesting how aromatic the beer actually was despite being uncarbonated (the bubbles from carbonation tend to push more aroma compounds out of a beer).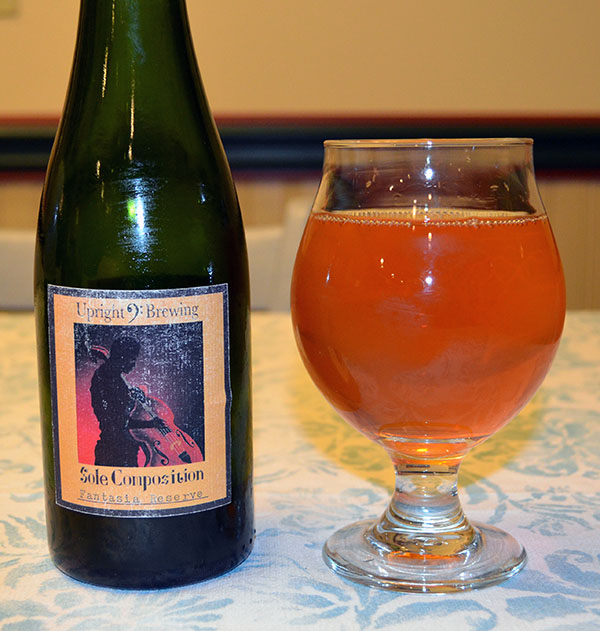 We detected aromas of apricot and sulphur associated with stone-fruits, lactic acid, and the sweet smell of gummy peach rings. There was a ton of vanilla present in the aroma. This beer distinctly reminded us of the smell of fruit cocktail syrup. Also present was a suntan lotion-like coconut aroma and the smell of musty white wine. As the beer warmed up, more and more neutral oak became apparent as well.
Very interestingly, the first flavor we noticed when tasting Fantasia Reserve was coconut. The beverage was lightly sour and this profile seemed to be about half lactic acid and half natural acids from the fruit. There was a light tobacco spiciness and notes of fruit cocktail. Cale was reminded of blood oranges which are a bit sweeter than a typical orange. While apricot and peach rings dominate the aroma these flavors were actually fairly mild in the flavor. The peach flavor while drinking Fantasia Reserve reminded us of the dehydrated apricots found in trail mix.
There was absolutely no malt or hop presence in Fantasia Reserve. Fruit, Brettanomyces, and barrel oak are the key players in this beer. Light tannins from the barrel and potentially from peach pits produced a balance with the beer's fruit sweetness on par with or exceeding the contribution from acidic souring.
I think that if I was given this product with no knowledge of its origins, it would be difficult to actually identify it as a beer. Fantasia Reserve has a number of fruit juice and mixed drink qualities. It drinks like a fruity and complex white wine. Mellow is a keyword here. While I have never gotten the chance to drink Upright's carbonated and blended sour beer Fantasia, I am definitely looking forward to doing so based on my experience with Fantasia Reserve. Sour beer fans looking for a funky mouth puckering peach bomb won't find it in a bottle of Fantasia Reserve. On the other hand, fans of white wine who are looking for something with an intriguing subtle sourness and a whole bouquet of Brettanomyces derived tropical fruit flavors will very much enjoy this unique beer. I found the vanilla and coconut flavors to be especially interesting. While I wouldn't go trading all of your rarest beers (aka. white whales, aka. whalez, aka. whalezbro, aka. pleasestop) to land one of these, I would definitely recommend giving one a try if given the opportunity!
Cheers!
Matt