Hello Sour Beer Friends!
As many of you know, I've been on a dry-hopped sour beer kick recently.  Following a tasting of New Belgium's delicious Le Terroir and the recent bottling of my own dry-hopped blueberry & blackberry sour, I had the opportunity to taste Funky Gold Mosaic by Prairie Artisan Ales.  Prairie Artisan Ales of Tulsa, Oklahoma, was founded by brothers Chase and Colin Healey in 2011.  The brewery focuses on the production of sour and farmhouse ales as well as barrel aged specialty beers.  While this is the first time I am writing about one of their beers for the site, I have had several of their products over the past few years and have always thought very highly of them.  Recently, I brewed a dry-hopped, fast soured, mango saison with my friend Carlo Palumbo.  We took the opportunity to open a bottle of Funky Gold Mosaic because we felt that it fit the theme of our brew day and we were very pleased with our decision!  This beer is based upon Prairie's bottle conditioned golden sour Prairie Gold.  Prairie Gold is fermented with a blend of ale and wine yeasts as well as Lactobacillus and two strains of Brettanomyces.  This base is then dry hopped with large quantities of Mosaic hops to impart a range of tropical fruit flavors and aromas.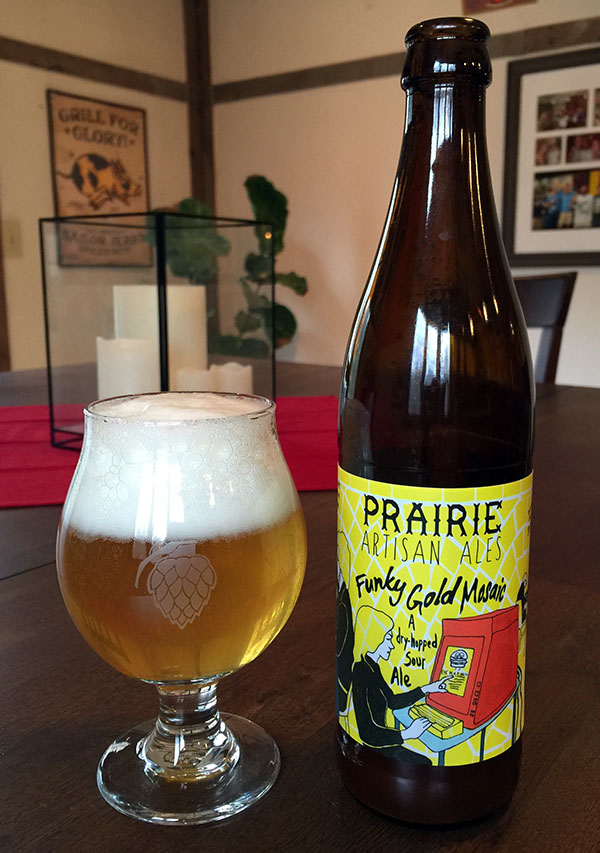 Funky Gold Mosaic poured mildly hazy and golden straw in color with a large volume of pillowy white head.  The beer smelled strongly of pineapple, lemon-grass, and hay.  We also picked up aromas of fresh oranges, wheat flour, lactic acidity, and a generalized floral perfume.  This beer had one of those aroma blends that was intense and very enticing.  I could tell the beer would be delicious simply based on how it smelled.
The beer had a medium level of acidity, with this sourness being comprised entirely of lactic acid.  Additionally, unlike many dry-hopped sours, Funky Gold Mosaic had a moderate level of true hop bitterness as well.  We found this bitterness to be on par with beers of the French Saison or American Pale Ale style.  The body was light and the beer had a high level of carbonation which left it feeling spritzy on the palate.
Funky Gold Mosaic had a fairly simple yet pleasant malt backbone which tasted like pale malt, wheat crackers, and flour.  The beer's true complexity begins to be developed by its farmhouse yeast profile, which was dry, floral, and spicy.  These flavors are a through-line in many of Prairie's beers and remind me of similarly delicious profiles found in beers such as Crooked Stave's Vieille Artisanal Saison and Birra Del Borgo's Duchessic.  Funky Gold Mosaic's dry-hopping produced flavors of honeydew melon, pineapple, and white grapes.  These flavors melded seamlessly with the beer's Brettanomyces characteristics which were of the sourdough, light leather, and damp hay variety.  The finish was very dry, sparkling, and reminded us of the finish in a lower-acidity gueuze.  This included a lightly mineral-rich water profile such as that found in Drie Fonteinen's classic Oude Gueuze.  Lastly, there were no detectable off-flavors.  Just to be thorough, this included no vinegar, no solvent notes or harshness, and no plastic, smoky, or bandaid-like phenols.
Overall, Prairie's Funky Gold Mosaic was a delicious dry-hopped golden sour which shows a talented hand in its brewing and fermentation management.  The beer's sour and bitter profiles melded seamlessly without clashing and were properly balanced right above the intensity of the malt backbone.  This made for a clean and crisp canvas to showcase Funky Gold Mosaic's  complex blend of tropical fruit hop flavors as well as its earthy and leathery Brettanomyces notes.  I definitely recommend trying this one if given the chance.  Additionally, while I have not yet tasted it, I am definitely looking forward to trying Prairie's more recently released sister beer: Funky Gold Amarillo.  Sporting Colin Healey's bold and unique artwork on their labels, Prairie beers are easy to pick out on bottle shop shelves and are most definitely worth your attention.
Cheers!
Matt "Dr. Lambic" Miller